Description
Unique Membrane Protector Technology
This technology protects the RO Membrane from the detrimental effects of salts, that cause hardness, by preventing scale build-up. Also, it prevents the crystallisation of these salts in the Quartz Glass Tube of the UV Chamber. This allows full penetration of UV Rays in the water column, thereby ensuring absolute disinfection.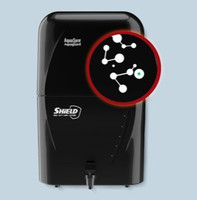 Contemporary Design with Smart LED Indicators
It lets you know about the status, such as when the tank is full, the incoming water pressure is low or there is no water supply, using different colors. These colorful indicators, along with its modern design, give this water purifier a touch of elegance.
Specifications
General
| | |
| --- | --- |
| Model Name | |
| Color | |
| Total Capacity | |
| Purifying Technology | |
| In The Box | 1 Water Purifier, Clarity Cartridge, Installation Kit and User Manual |
| Power Requirement | |
| Power Consumption | |
| Electrical Type | |
Product Details
| | |
| --- | --- |
| Detachable Storage Tank | |
| Auto Shut Off | |
| Auto Start | |
| Overflow Protection | |
| Child Lock | |
| Filter Life | |
| Filter Type | I-filter, Membrane Protector, Chemi Block DFC, MLE, RO Membrane, Taste Enhancer and UV Disinfection Chamber |
| Membrane Type | |
| Storage Tank Material | Engg. Grade ABS, Food Grade |
| Indicators | Led Indication for Purification Process, Tank Full, Low Pressure, No Water Supply and Service Alert |
| Other Body Features | Water Level Indication Window on Storage Water Tank |
| Alarms | |
| Other Convenience Features | TDS Modulator for Adjusting the Desired TDS of Purifier Water, Two Way Tap for Hands Free Dispensing, External Sealed I-filter Easy to Back-flush, Clean Periodically for Enhancement of Filter Life |
| Other Features | Overflow Drain for Protection of Product from Flooding in Case of Leakage, Supplied with Spare Disinfection Tablets for Periodic Disinfection, Cleaning of Storage Tank (Refer User Manual), Filtration Capacity: 11 L/hr |
Performance Features
| | |
| --- | --- |
| Filtration Capacity | |
| Purification Capacity | |
| Cold Water Dispenser | |
| Hot Water Dispenser | |
| Maximum Input Water Temperature | |
| Minimum Input Water Temperature | |
| Installation Type | |
| Purification Stages | |
| Total Dissolved Solids (TDS) Levels | |
| Water Flow Rate | |
Dimensions
| | |
| --- | --- |
| Width | |
| Height | |
| Depth | |
| Weight | |
Warranty
| | |
| --- | --- |
| Warranty Summary | |
| Warranty Service Type | |
| Covered in Warranty | The Companys Liability Under the Warranty will be Limited only to Defects which Occur Under the Conditions of Normal Operation and Under Proper Use |
| Not Covered in Warranty | |
| Domestic Warranty | |